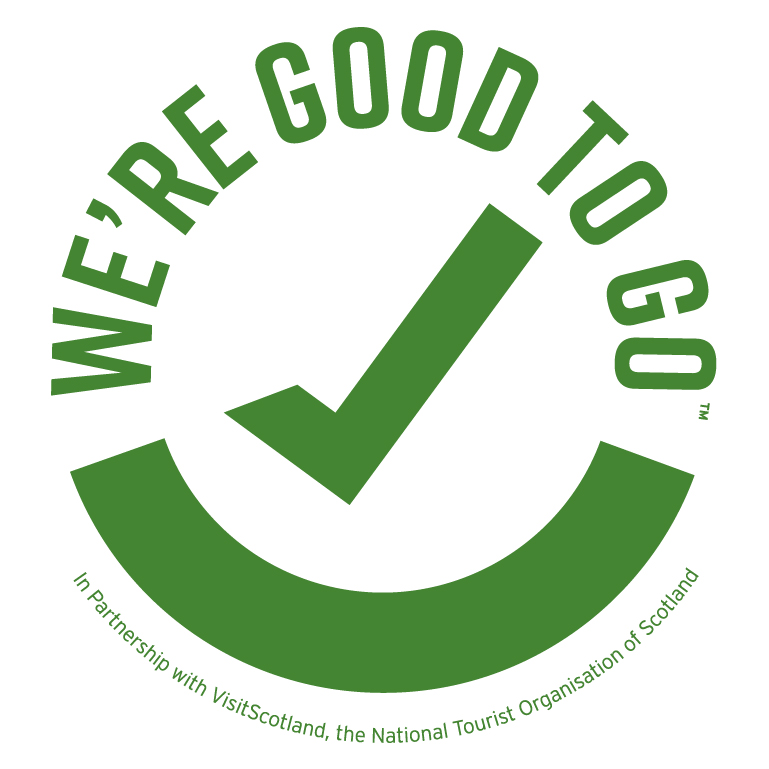 Additional measures: Tirindrish House Bed & Breakfast
A warm welcome awaits you at Tirindrish House Bed & Breakfast where we look forward to providing you with a relaxing and enjoyable stay in the beautiful West Highlands of Scotland. In line with government guidance and for the safety and peace of mind of our guests and staff we have made some changes to our normal operations.
Arrival & Check-in
We have reduced occupancy levels at Tirindrish House to increase ease of social distancing on the property.  Check-in is between 4pm and 7pm and check out is by 10.30am. Guest contact information will be taken on arrival for purposes of COVID19 track and trace systems.  Data collected for these purposes will be deleted after 21 days.
If you see other guests are checking in on your arrival, please observe two-metre distancing and your hosts will attend to you as soon as they are able. Please also be aware of other guests and maintaining these distances when moving around the property.
Breakfast
We kindly ask all guests to wash their hands before coming down for breakfast and when they return to their room. Hand sanitizer will be available for use in the breakfast room.
Two breakfast sittings are available at 07.30 and 08.30.  These will be allocated on a first-come-first-served basis.  Whilst we are not permitted to offer our normal buffet service, a continental and cooked breakfast will continue to be available to order. 
Alternatively, we can provide a delicious take away or 'in-room' breakfast that can be delivered outside your room at any specified time during our breakfast service hours.
Cleaning
We have increased our already strict cleaning regimes and are regularly cleaning public areas and non-essential items removed from guest rooms and dining areas.  When cleaning rooms/communal areas we will be using anti-bacterial sprays on all surfaces, handles, switches and fabrics etc.
To minimise contact and cross-contamination for both our guest and our own safety we will not be servicing your rooms during your stay. Fresh bin bags can be found in your bedroom side-table drawer. Additional toilet rolls will also be provided in the bathroom. We kindly ask that you tie any full rubbish bags tightly and leave them outside your room for collection each morning. If you are staying with us for more than two nights, please let us know if you need additional top-ups of any items. The same applies if you require any fresh linen or towels during your stay. Cleaning/sanitizing products can also be provided if needed.
Payment  and checkout
We are currently taking card payments only.  Payment will be taken using the card details submitted at the time of your booking using our remote card payment system.
If you feel unwell
If you experience any symptoms that could be COVID-19 related while staying with us, please let us know as soon as possible. As per government advice, you should also remain in your room until we have discussed a plan of action. This will help to keep everyone safe.
Guests arriving displaying symptoms of COVID19 will unfortunately be declined entry and any deposits refunded or your stay re-scheduled.
Out and about
Please remember that many of the shops and businesses are also operating differently to their normal patterns and take into consideration social distancing in all situations. Most pubs and restaurants will require you to book tables for food in advance.  If you would like assistance making reservations, please contact us and we will be happy to help with this.  
If you are planning on walking or climbing in the hills, please choose routes comfortably within your ability and bearing in mind weather conditions forecast.
Thank you!
Thank you for bearing with us. This is a new and strange situation for us all and we will do our best to work together to ensure a safe environment.  We will keep you informed of any further operational changes via this page moving forward. Thanks for your continued support and we wish you a happy and relaxing holiday in the highlands.
Best wishes,
Lucy & James